ENGINEERED QUARTZ
One of Natures Hardest Materials and The Number One Choice For Kitchen Benchtops All Over Australia – Engineered Quartz Is a Fantastic Option For Those Looking for a Resilient Kitchen Benchtop, Splashback or Bathroom Material.
What is Engineered Quartz?
Engineered Quartz is an ideal modern surface for new or traditional kitchen and bathroom styles and fast becoming one of the most popular kitchen benchtop materials in Australia and worldwide. 
With its uniformity, strength and impermeability, it will give the feel of a stone worktop with a stain resistance second to none, and is a good choice in any modern family kitchen.
Quartz is made from 94% natural crushed quartzite with a 6% coloured resin binding agent, the mix is poured into a mould, and pressed and 'baked' at high temperature to harden it. The mould is vibrated during the cooking process which settles the material in such a way as to render it impermeable. It is lighter and stronger than granite.
Quartz colours vary greatly in price from manufacturer to manufacturer, and colour to colour. Essastones range of quartz surfaces gives you the best quality at an affordable price.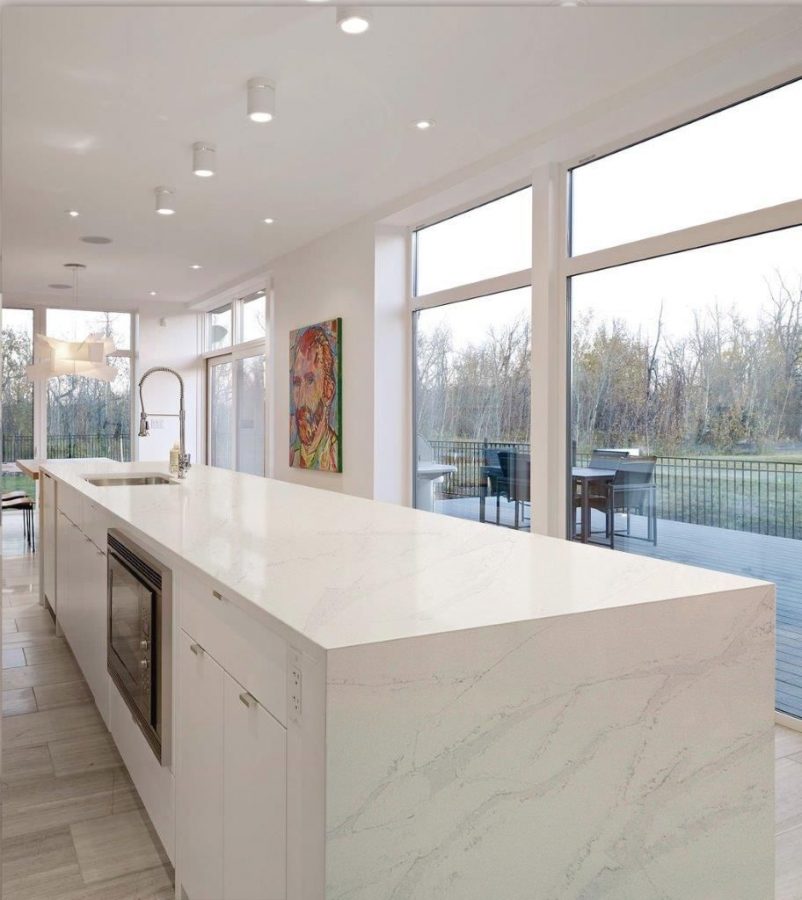 Engineered Quartz Brands We Range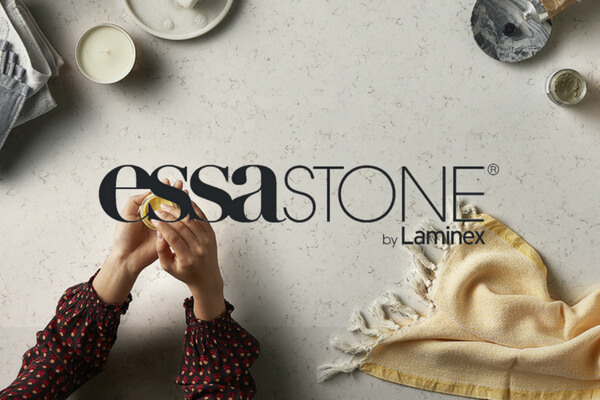 Benefits of Engineered Quartz
High Flexural Strength
Colour Consistency
Large Slabs – Less Joins
15 Year Limited Warranty
Non-Porous
Low Maintenance
Ultra-High Stain Resistance
High Fire Resistance
High Chip & Scratch Resistance
Mould & Mildew Resistant
Frequently Asked Questions
Have a question about our range or styles of engineered marble, quartz, natural materials or granites that we stock? Don't hesitate to contact Epsilon Stone Directly if you are not able to find the answer your questions on our website by finding our details below.
Why Is Quartz Rising So Much In Popularity?
Kitchen Benchtops, where quartz is so heavily used is an area that is prone to heat, marking, scratching, damage and heavy traffic, thanks to normal every day life. The engineering process of quartz has evolved so rapidly in the past decade that now almost any style, colour and finish imaginable is available, at a far lesser cost than its natural stone counterpart. Due to its minimal maintenance, engineered quartz is an ideal choice for those with busy lifestyles, where little upkeep is required.
How Much Does the Average Quartz Slab Cost?
This differs greatly from brand to brand. You will need to speak with your local stonemason on pricing.
Where Can I Buy Your Engineered Quartz Materials?
Simply speak to one of our friendly team at Epsilon Stone who can refer you to hundreds of trusted, local stonemasons in your area to purchase your next slab of Engineered Quartz.
How are you any different to other Melbourne Stone Suppliers?
Our company was built on trust, great relationships with our clients and ensuring the absolutely best service of any stone supplier in Victoria – We will always go above and beyond for our customers, every single time. We are not a multi-national, nationally based company like other suppliers, and anyone you speak to at Epsilon Stone, can offer personalised, friendly and tailored serviced to ensure the best possible outcomes for your stone project.

"LOVE LOVE LOVE My new powder room! It took a long time for me to finally choose the right colour but after a lot of back and forth, the classic white was exactly what I had envisioned for the space."

"My sincerest thanks to Ty and his team for a seamless experience. My splashback and Island bench look absolutely sensational. His suggested stonemason did a really wonderful job and much faster than I had expected."

"I wish I knew about your marble and quartz earlier for my other projects, but I won't be sourcing material anywhere else after the great service and quality of the product Ty and his team supplied. Thankyou for everything"