Melbourne's Home Of Stone
Take the stress and confusion out of choosing the perfect material for your next kitchen benchtop or stone project. With a Stunning Range of Marble and Quartz Brands, Epsilon Stone is Chosen supplier of designers, builders and architects all over Victoria
Teltos Engineered Quartz
A Kitchen Benchtop's Best Friend
COMPAC Engineered Marble
Changing the Face of Marble in Melbourne
Three Major Display Locations
Mt Waverley, Keilor Park and Somerton
Essastone Quartz by Laminex
We are the Preferred Essastone Distributors
Melbourne's Home Of Stone
From Kitchen Benchtops to Full-Scale Commercial Projects, Epsilon Stone is Melbourne's Most Trusted Name in Stone. We Are Your Premier Provider of Engineered Marble & Quartz, Granite, Natural Marble and the all New & Exclusive Range of Stunning EPIC Italian Porcelain, EPIC.
Engineered Quartz
A Kitchen Benchtop's Best Friend
Natural Marble & Granite
Nature's Most Beautiful Materials
EPIC 100% Italian Porcelain
Mt Waverley, Somerton & Keilor Park
Engineered Marble
The Most Versatile Marble Ever Created
Quartz & Marble For Any Stone Look You Want
Established in early 2017, Epsilon Stone has fast become one of Victoria's most trusted and respected stone suppliers, thanks to our wide range of exclusive quartz, porcelain and marble products, plus our great service and stone expertise. 
Thanks to these relationships and our range of exclusive stone lines, we have all the materials you need, suitable for any project imaginable. From a simple benchtop or bathroom vanity to full-scale retail or commercial projects, Epsilon Stone have everything you need in one place.
Epsilon Stone is now proud to be the chosen choice of stone supplier for some of Victoria's best stonemasons, interior designers, cabinet makers, architects and builders thanks to our continuous desire to innovate and provide our wonderful clients with the highest quality materials with excellent service and great pricing. 
Visit One of Our Engineered Marble Displays Around Melbourne
Introducing...
Teltos Engineered Quartz
A brand leader across the globe, Teltos are renowned for offering their unique style, a sophisticated palette of quartz colours and a stunning combination of finishes, guaranteed to bring your next stone or kitchen benchtop project to life, backed by a leading 15-Year limited warranty and exclusive to Epsilon Stone.
10 Stunning Colours Available
Heat, Fire, Stain, Acid & Scratch Resistant
Greenguard & Kosher Certified
Calacatta, Concrete & Cararra Styles Available
Backed by a Class Leading 15 Year Limited Warranty
Containing up to 93% natural quartz, plus special additives and pigments, which combined, make it exceptionally hard wearing, practical and highly versatile – For anything life can throw at it.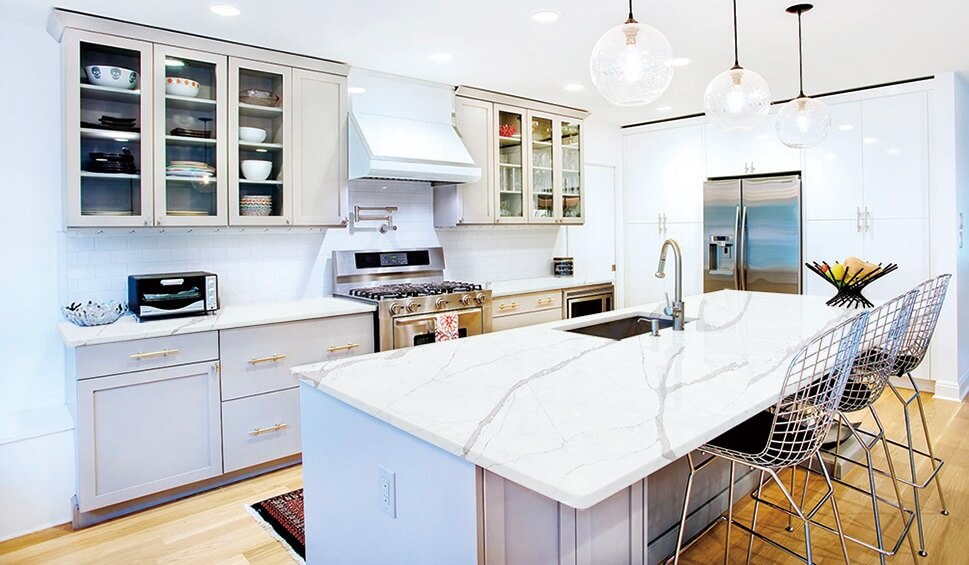 What Our Customer Have to Say..

"LOVE LOVE LOVE My new powder room! It took a long time for me to finally choose the right colour but after a lot of back and forth, the classic white was exactly what I had envisioned for the space." Amelie Grevelia

"My sincerest thanks to Ty and his team for a seamless experience. My splashback and Island bench look absolutely sensational. His suggested stonemason did a really wonderful job and much faster than I had expected." Stewart Griffins

"I wish I knew about your marble and quartz earlier for my other projects, but I won't be sourcing material anywhere else after the great service and quality of the product Ty and his team supplied. Thankyou for everything" Adrian Link
Frequently Asked Questions
Have a question about our range or styles of engineered marble, quartz, natural materials or granites that we stock?
Don't hesitate to contact Epsilon Stone Directly if you are not able to find the answer your questions on our website by finding our details below.
What Type Of Materials Do You Provide?
Epsilon Stone is proud to be on of Victoria's most diverse suppliers of natural and engineered stones for kitchen benchtops, to retail or commercial applications.
We Range the following materials:

Engineered Marble  (Exclusive to Epsilon Stone)
Essastone Engineered Quartz
Teltos Engineered Quartz (Exclusive to Epsilon Stone)
Natural Marble 
Granite
Do You Fabricate the Materials You Supply?
Epsilon stone are suppliers of fine surface coverings but do not fabricate or install the materials we supply.
However, we have great relationships with hundreds of stonemasons all over Victoria and if purchasing one of Epsilon Stone's materials, we can source quotes from multiple stonemasons to get you the best price and service available and nearest to your area at no additional cost. (optional) 
Do You Sell Direct to the Public?
As a distributor, we only sell to stonemasons from who you can purchase your stone and fabrications services directly from.
We do this to ensure fair pricing and the ongoing supply of work for our trusted stonemasons who choose to work with Epsilon Stone.
You can also purchase directly from our Melbourne based distributor, Jordain Stone, located at 22 Lionel Rd, Mt Waverley.
How are you any different to other Melbourne Stone Suppliers?
Our company was built on trust, great relationships with our clients and ensuring the absolutely best service of any stone supplier in Victoria – We will always go above and beyond for our customers, every single time.
We are not a multi-national, nationally based company like other suppliers, and anyone you speak to at Epsilon Stone, can offer personalised, friendly and tailored serviced to ensure the best possible outcomes for your stone project.
CONTACT EPSILON STONE TODAY
Contact Us By Email
info@epsilonstone.com