Choosing a Splashback
Choosing the right type of splashback for your kitchen project can be a little harder than you might think. That's why we've created this how-to choosing guide to help you get it right. 
Don't Underestimate the Importance of a Practical Splashback
Practical as well as stylish, a splashback is an integral part of the kitchen that keeps your design looking its best. When choosing a kitchen splashback, start by thinking of the area to be covered: do you want a simple panel on the wall behind the hob or an entire run along the expanse?
Every kitchen demands a tough, wipe-clean material to sit behind the cooker and sink, but in a modern-day scheme the choice of splashback is very much a design decision. It's position at eye level means it's an important focal point that forms the backdrop of your kitchen.
The bias towards natural materials, such as wood and stone, means that neutral colours won't go out of fashion, though advances in technology mean that glass, stainless steel and acrylic are just as strong, durable and stylish – and just as popular.

Kitchen Splashack Checklist
Needs to look stylish
Needs to be practical
Will it be a high maintenance area?
Is it heat proof for gas burners
Will it complement the other design features of my home?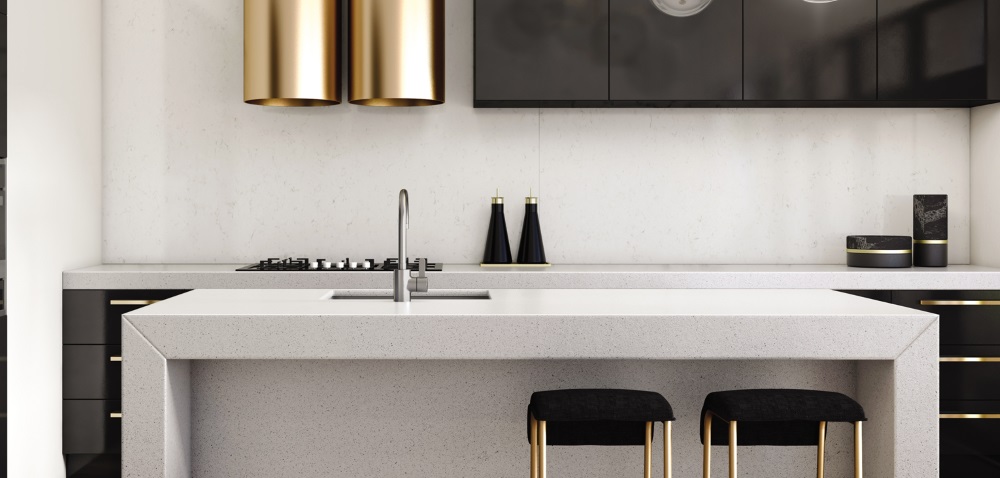 But Just What Type of Kitchen Splashback Materials Are Available?
Laminate Splashbacks
Laminate Splashbacks are a cost-effective option for those who are budget conscious. Similar to laminate flooring or benchtops, there are hundreds of different styles and options available for the savvy homeowner. One consideration is the heat resistance against a gas burner or running the potential risk of hot oils and liquids affecting the finish of your laminate splashback. 
Natural Stone Splashbacks
For those with higher budgets looking for something unique and versatile, a natural stone splashback is a fantastic solution. Granites, marbles, Epsilon Stone's own range of engineered marble and engineered quartz are all ideal options to create an array of colours, from veined options to rugged and raw granites. With all natural materials comes a greater cost of fabrication and installation, however, they are more resiliant to heat and fire than the laminate options above. 
Engineered Quartz & Marble Splashbacks
A more recent addition to the kitchen splashback markets are engineered (Or reconstituted) marble and quartz, which can produce stunning results for those with a moderate to higher-end budget. Although quartz an and engineered marble do not come with the same heat rating as a material such as porcelain, they contain incredibly hire fire resistance thanks to their low resin counts and low calorie values. 
Tiles 
One of the most popular (and often times cost effective) ways to really bring life into a new kitchen space is through the use of tiles. Coming in all different shapes, sizes and styles, tiles are typically available in either ceramic or porcelain that is waterproof after installation. While they are a cost-effective solution and offer a huge range of styles, the grout can become high maintenance.
Stainless Steel
Offering a stylish and modern/industrial look, stainless steel a great option for those looking for a durable and low-maintenance splashback solution. The concern with stainless lies within the ability to keep the surface free or marks and fingerprints, particularly within high light or reflective environments. 
Glass Splashbacks
Functional and inexpensive are glass splashbacks, seeing a recent sharp rise in popularity due to its very modern look and style. Along with engineered surfaces like quartz and marble, glass offers high heat resistance, and easy to clean surface and the ability to resist mould and mildew. 
Contact Us By Email
info@epsilonstone.com